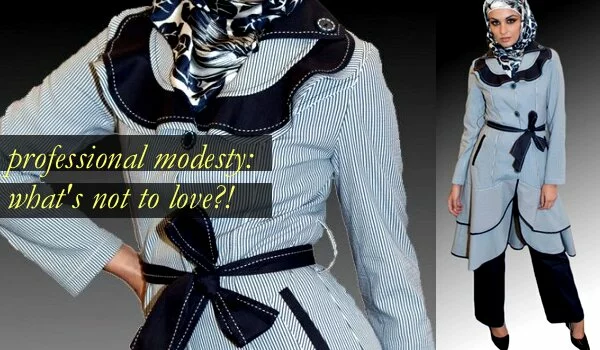 Every woman has an I've-got-nothing-to-wear-to-work day now and then. But, I think that Muslim women have it the hardest. Why? Because we have to find clothes that are clean, professional and modest enough to wear to work – and then we've got to find a hijab to match. I'm sure that many of you working women know what it's like to find something halfway modest in your closet – for example a sleeveless tunic – only to realize that the long-sleeved t-shirt that you normally layer it with is in the dirty clothes bin…
This brings me to one of the reasons why I love the new fashion franchise called Setrms UK. While most designers sell suits that feature jackets and skirts that are too short to be hijab-friendly, Setrms UK offers long jackets and long skirt-suits that make it easy for a Muslimah to get dressed without having to worry about layering, mixing, and matching.
Some of my favorite items of Setrms UK's first collection are their long jackets. The one pictured above is called Tulin and I can imagine wearing it in several different ways. You could wear it to work by pairing it with wide-legged pants (as shown above). You could dress it down by pairing it with jeans and a t-shirt. Or you could wear it with a simple maxi dress.
Click here to see what else Setrms UK has got to offer. And be sure to sign up for their email newsletter (at the bottom of their website) because they're giving away a free silk hijab to one lucky subscriber… When you're all done, come back here and let us know:
Would you wear this type of clothing to work? What do you normally wear to work? What do you think of the Setrms UK line in general?
Source: welovehijab.com