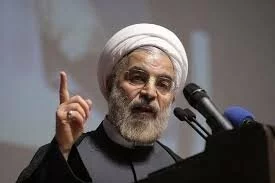 Iranian President Hassan Rouhani today said his country would "do its best" to secure a nuclear deal as Tehran and Washington held crunch talks on the long-running dispute.
Senior negotiators from both camps met behind closed doors for a second day of talks at Geneva's upscale Hotel
President Wilson, which was sealed off to the media.
The meeting is part of a fresh diplomatic drive in the face of a looming July 20 deadline for a final deal between
Iran and the P5+1 group of world powers.
Iran will do its best for a final deal with the P5+1," said Rouhani, a former nuclear negotiator, speaking in Turkey. The self-declared moderate was elected president last year, succeeding hardliner Mahmoud Ahmadinejad, and has launched a drive to mend fences with the West.
Iran is ready to sit at the negotiating table for a solution" to both the nuclear dispute and "unfair sanctions",
he said.
After over three hours of talks today morning, Iran's deputy foreign minister and nuclear pointman Abbas Araqchi
said the climate was "positive".
Washington warned of "tough choices" as fellow P5+1 members try to build momentum in the crunch negotiations.
The US-Iran meeting began yesterday with a five-hour session, the first time since the 1979 Islamic Revolution that
American and Iranian negotiators have held direct, official nuclear talks.
The two sides have met informally, notably in a secret session last year in Oman which helped coax Tehran back to the negotiating table.
They have also sat down together within the P5+1 process.
The P5+1 comprises the five permanent UN Security Council members Britain, China, France, Russia and the United States, plus Germany.
They secured an interim deal with Iran in November after marathon talks in Geneva.
The deadline for a final accord was July 20, but several players including Iran have already said a six-month extension may be needed.
Washington and the other P5+1 states are seeking solid commitments that will ensure Iran's stated desire for a
peaceful atomic energy programme is not a covert attempt to build a nuclear bomb.
For Iran, the goal is to make a leap towards ending the international sanctions, notably those imposed by the United States, that have battered its economy.
Tomorrow, Iranian negotiators are set to meet in Geneva with their French counterparts, before heading to Rome for
talks with Russian officials, then hold a session in Tehran with Germany on Sunday.