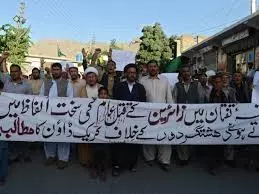 The death toll from Sunday night's suicide attack on a hotel hosting Shia pilgrims in Taftan rose to 30 on Monday, Express News reported.
Among the 30 people killed in Taftan, 22 have been so far identified as residents of Kohat District of Khyber-Pakhtunkhwa and Tirah Valley in Orakzai Agency, relatives of the deceased told The Express Tribune.
Speaking from Quetta, Yousuf Bangash, a resident of Kohat, said there were four buses with 210 passengers, who were residing in two hotels, Hashmi Hotel and Syed Murtaza Hotel, when the bombers attacked the pilgrims.
He confirmed that 22 of the deceased had been identified and belonged to Kurram Agency, Orakzai Agency in Fata and district Kohat of Khyber-Pakhtunkhwa.
"This includes nine women and a child," he said while 16 injured people brought to the combined military hospital 14 women and two men.
He added that the bodies of the deceased were brought to the hospital where the authorities had informed them they would be flown to Kohat.
Khizer, who identified himself as the head of the caravan of pilgrims, said he was lucky to have survived the attack "I cannot say much at the moment," he said. Khizer along with the bus driver, Layas Khan remained safe in the attacks, but were too shaken up to speak.
The death toll was earlier reported as 23 with many injured but 7 more victims succumbed to their injuries in the hospital.
Tahafuz-e-Azadari Council has announced a three-day mourning period following the attack.
On late Sunday night, a suicide bomber had entered Al Murtaza Hotel in Taftan, a district on the border with Iran, and detonated explosives strapped to his body in the midst of Shia pilgrims, security sources had told The Express Tribune.
Levies and Frontier Corps personnel had engaged the attackers in a gunfight. FC spokesperson Khan Wasey had claimed in a statement that one of the bombers was killed by the paramilitary troops.
A banned outfit Jaishul Islam had claimed responsibility for the attack. A purported spokesperson for the group, Azam Tariq, had called Quetta-based journalists from an undisclosed location to claim credit for the deadly attack.
Sources had said that intelligence agencies had warned of possible attacks on pilgrims one month ago, but the authorities had failed to put in place adequate security to thwart Sunday's attack.
The Majlis Wahdatul Muslimeen, Hazara Democratic Party, Tehreek-e-Nifaz-e-Fiqa-e-Jaferia and Tahaffuz-e-Azadari Council had condemned the attack and called it failure of the government.
Following the incident, Iran has closed its border with Pakistan for an indefinite period and security has also been tightened.
"Zero-Point gate on Pak-Iran border in Taftan has been closed by the Iranian officials and all activities pertaining to travelling and trade through the border were suspended," Deputy Commissioner Chagai, Saifullah Khetran said.