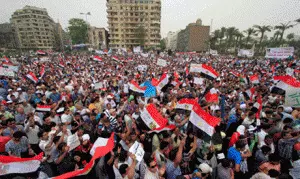 The "Second Day of Rage" last Friday marked a significant step taken by the Muslim Brotherhood (MB). They announced they would remove political cover for the MB youth, part of the Youth Revolution Coalition (YRC), over their participation in Friday's protests.
"Only Mohamed Afifi and Osama Yassin represent the MB in the coordination committee for the protection of the revolution and no one is representing it in the YRC," said Mahmoud Hussein, Secretary General of the MB, according to a press release.
Meanwhile the MB youth do not plan to comply with this statement. "We will continue both our role in the YRC and as MB members," Mohamed El-Qasas, member of the MB youth and member of the YRC told Ahram Online.
The MB youth declare that their participation in the "Second Rage Friday" doesn't conflict with the MB's refusal to participate.  "We participated in 'Political Corruption Friday' which is what the YRC called it," El-Qasas told Ahram Online.
The YRC called May 27 Political Corruption Friday and not Second Day of Rage because they had different demands. "We did not call for a constitution before the parliamentary elections or a presidential council or a sit-in," el-Qasas said. They were calling only for trials of corrupt figures of the old regime.
The coordination between the MB youth and the YRC began on the first day of the Egyptian revolution, January 25 and has continued since then. "The decisions of the MB don't reflect on us and I think the MB did that to eliminate the role of the YRC," Shady Ghazaly Harb, a member of the YRC told Ahram Online.
Moreover, the Ikhwan Online editor, Abdel Gelil el-Sharnouby resigned today in protest over the MB's official statement released on the Second Day of Rage.
The MB refused to take part in the Second Day of Rage and released a statement on 27 May that said: "The Muslim Brotherhood group is very worried about Friday protests and we ask to whom this anger is directed now?"
The statement said the group sees these protests as either a revolution against the majority of the Egyptian people or a dispute between the Egyptian people and the military represented by the Supreme Council of Armed Forces. They asked Egyptian people to stop this.
Interestingly, around 100,000 protesters were at Tahrir Square on the Second Day of Rage, raising questions about the actual weight of the MB among Egyptians.