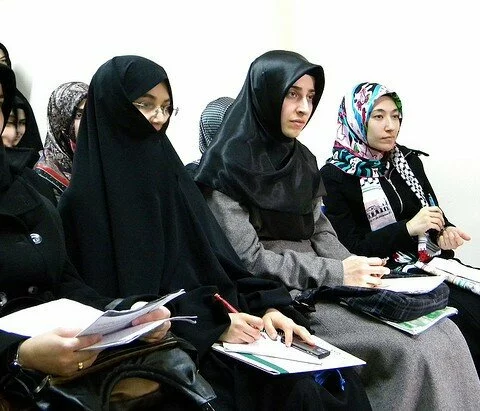 Women in Islam are granted numerous rights, as their status is considered equal to men. Women are suppose to be given the right of getting higher education, to attend mosques, the right to marriage by their own consent, to do jobs and even business. Women have the right to go outside home and in the community.
Nowadays when we look around the world we see that those countries are progressing where there is less gender discrimination and where women are working side by side with men. Women are the ones who turn out to be the best teachers. They mold the young minds of today for a better tomorrow. Islam doesn't prohibit women from working. In fact Islam allows them to even do business and keep all the money to themselves and spend it the way they like. Islam only asks that a woman should be modest in her dress and protect herself and her chastity.
Women suffered a lot before the advent of Islam but slowly and gradually they were granted rights and freedom as Islam spread in the vast corners of the world. Women started to know their rights and started to live their life the way they want to. Women however,are still suffering in some parts of the world, and it is the duty of the Muslims to help and support their sisters.
Many religious scholars speak in the favor of women rights but if you take a sneak look at their household, you may find their own women cladded and wrapped in the veils in the name of so-called Islam within the boundaries of their home or inside the four walls. It is not Islamdevoid the woman of any of her rights. The so-called Muslims have used Islam to suppress the women. What needs to be changed is this thinking and of course, women can do this if they get united and trained. A good mother can bring about change in the society by giving proper training and guidance to her male children. She can put good seeds in their minds and teach them from day one to respect and honor the women. These boys when turn into adult males would bring about change in their own perspective and treatment towards the opposite gender as well as that of the society. Unless the women could know themselves thequalities, they posses thatthey could manipulate with these attributes Allah given them they can never expect any thing changing for them in the social setup where they exist.